Dress Up Your Holiday Table With This DIY Falling Leaves Centerpiece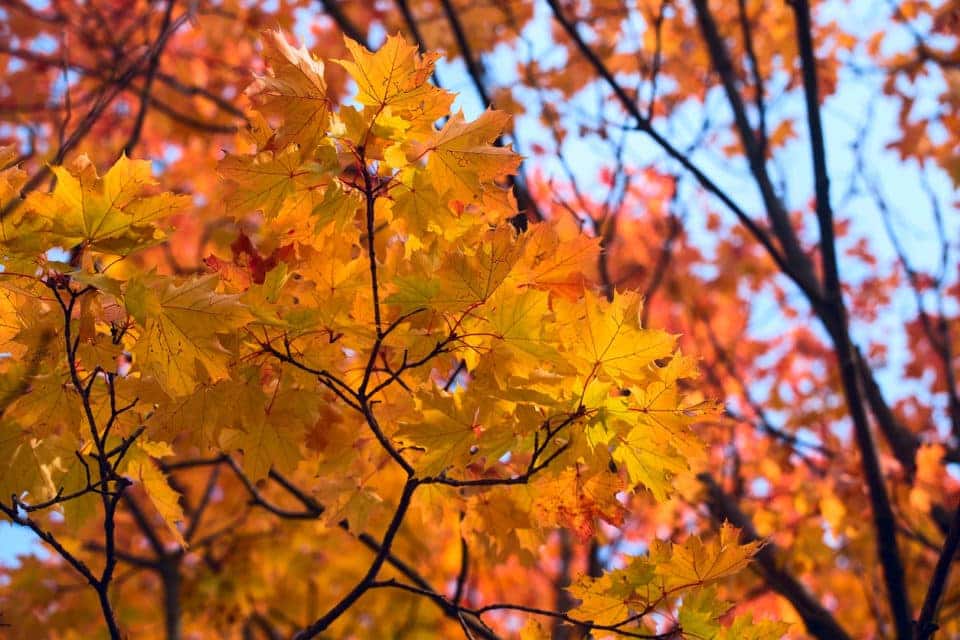 Everyone loves fall foliage this time of year. In fact, other than pumpkin spice, it may be one of the most popular signs that autumn is in full swing. But those brilliantly-colored leaves are making their way to the ground even as we speak, so the trees will soon be bare. However, that could be a golden opportunity for you. Now that they're easy to gather, you can dress up your holiday table with this DIY falling leaves centerpiece. 
Materials Needed
Measuring Tape
One Spool of Fishing Line
Wax Paper
Painter's Tape
Scissors
Hot Glue Gun
Fall Leaves
You can use faux silk leaves, but there is something about using real fallen leaves with their bright hues of orange, red, and yellow. Here are some of our favorite Virginia trees that you may want to consider as you collect your foliage:
Maple – Virginia has quite a diverse landscape, with mountains in the west and beaches on the Atlantic Ocean. Here in the National Capital Region, we're fortunate to be in the midst of so much beauty. And some of that beauty comes from not one maple tree but two. Both the Red Maple tree and Sugar Maple tree produce similarly colored orange foliage, however the Red Maple has a bit more of a scarlet hue while the Sugar Maple is a tad brighter. Both would complement each other magnificently as part of your centerpiece.
Hickory – Ahh yes, the Hickory tree. It's an outstanding source for strong wood, perfect for making furniture, tools, and other products. And it's leaves? Stunning. Gold-colored Hickory leaves would be ideal on your table during the holiday season.
Oak – Like Hickory, Oak is widely used to build many items, and it's leaves are equally breathtaking. The deep red, amber hues are certain to put everyone in the holiday spirit.
You might also like: Warm Up With This Apple Cider
Putting the Center Piece Together
Arrange the leaves that you collected in three group sizes: small, medium, and large. You should then take the wax paper to measure from the bottom of your dining room light feature to the table top and cut off the piece of wax paper. You will then use the wax paper to lay out the fishing line. The fishing line should actually extend beyond both sides of the wax paper. Cut the pieces of line and tape down with the painter's tape. With the hot glue gun, you will adhere the fall leaves to the fishing line. To ensure that the leaves do not stick to the wax paper, place the leaves between the wax paper and fishing line, glue the leaves from underneath. Once the hot glue dries, you can remove the pieces of fall leaf garland from the wax paper and tie to your chandelier or light fixture.