Discover The EQB SUV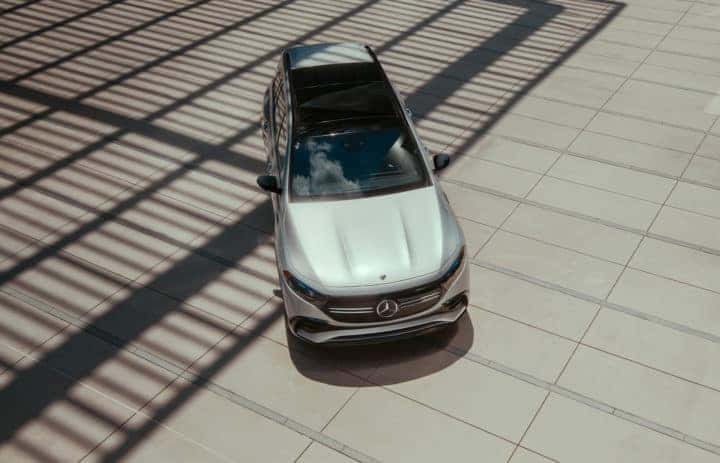 Going electric is not a new concept. Just about every automotive brand has their own lineup of electric or hybrid vehicles. While going green may not be new, it has never been classier than it is now with the Mercedes-Benz fully-electric EQB SUV. With plenty of amenities and features, there are sure to be plenty of people asking Santa Claus for this awesome vehicle.
Go Big & Electric
In times past, going green meant having to go small. People would drive around in electric vehicles that barely held room for two. Mercedes does not believe that you should have to scale back on size just to go green. The EQB proudly holds seven people in this roomy SUV. The Mercedes SUV can also make room that is customized to hold your cargo. The second row offers a 40/20/40-split and the third row adds a 50/50 split.
A Stylish SUV
You will certainly turn heads when you drive the Mercedes EQB. With aerodynamic styling on the outside and 64-color lighting in the cabin, the EQB offers both driver and passengers alike another level of sophistication, allowing you to set the ambience you want as you drive. The style continues on the exterior of the EQB with full-width LED lighting. You can also opt for different wheels and styles such as the AMG® design.
Cutting Edge Technology
Want to feel like a VIP in your vehicle? You can when you drive the Mercedes EQB that offers drivers their very own onboard virtual voice assistant with the Mercedes-Benz User Experience. Drivers can have an all-around great driving experience with features like navigation, Head-Up Display, Exit Assists, Blind Spot, and more.
You might also like: Surprising Ways To Get Better Gas Mileage
The Power To Get Going
In the Mercedes EQB, you do not have to sacrifice on driving performance. The EQB comes with dual motors – one in the front and one in the rear – that work together to output 225 horsepower and 288 horsepower in the EQB 300 and EQB 350 models respectively. The Mercedes EV SUV also offers drivers with a sporty ride thanks to its optional four-wheel thrust.